About Kirby Construction Company, Inc.
York is a founder of Kirby Construction Company Inc since 2003. He has over 30 years of experience in various areas of construction, from carpentry, job supervision, project management to operating a growing construction company. His hands on involvement in a diverse and varied types of projects such as biomedical labs, clean rooms, ground up commercial buildings, tenant improvement, facility upgrades, historical restorations, municipal projects, wineries and custom homes gives him a very unique level of experience to manage successful projects. He, along with his highly skilled team of project managers, superintendents and carpenters, the company enjoys a great reputation of quality work in the North Bay.
Today, York continues to lead our award winning Santa Rosa Construction Company with the vision and company heritage of Safety, Quality, Schedule and Value.
Kirby Construction Company, Inc. was founded on the four cornerstones of good construction:
Safety, Quality, Schedule & Value.
Kirby Safety:
We deeply care for our team, our clients, and the environment in which we work. Our safety record has been stellar due to the high priority we continually place on our safety program. An added benefit is lower insurance costs.
Kirby Quality:
The key to long term success of any construction company lies within the quality of the work. We pride ourselves in the quality of our work and quality control measures we put in place for each project. This culture, along with following plans and instructions of installed materials, saves time and money. Our high standards of quality and craftsmanship are some of the reasons for Kirby Construction's growth and repeat business.
Kirby Schedule:
The old adage of "time is money" could not be any more appropriate here. Our schedule is the road map for your project and its success. A solid and realistic schedule defines our clients' expectations. Many past clients continue to rely on us as they have intimately experienced how we handle schedules and challenges that come up along the way. Inversely, if the client's wish is to define a date of completion, we are able to review the scope and determine the man power needed to accomplish the delivery for the target date.
Kirby Value:
Our biggest asset is our team. By hiring skilled, experienced and good people, we have assembled a great team with a great attitude who will bring enormous value to the table. We treat our employees like family and they in turn treat the project that they are working on as their own.
We choose our subcontractors carefully. They are local and the best at their trade. This creates a harmonious team atmosphere between our employees and sub-contractors that is collaborative and efficient by nature.
We also rely on best in class business formats from project management, accounting, subcontracts, RFI, project scheduling and beyond.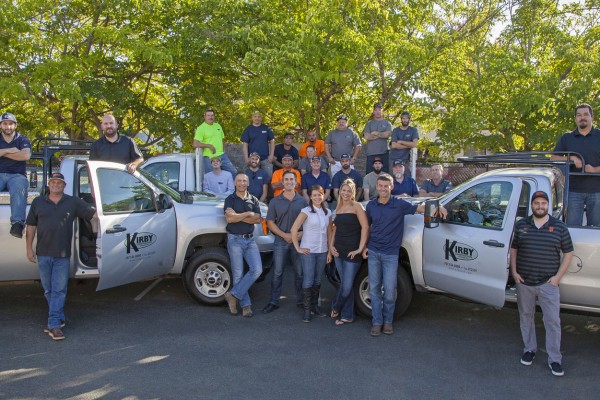 Building Relationships and Building Teams
We have established relationships with the area's Architects. Engineers, Building Officials, and Subcontractors in Sonoma, Napa and Marin County, allowing us to work as a team throughout the duration of a project while staying on budget and on time for our clients.
We are a company that takes pride in providing close and personal attention to each and every client. Every project we undertake, large or small, is built on the four cornerstones of good construction: Safety, Quality, Schedule, and Value.