Kirby Construction Services
Kirby Construction Company, Inc. is a Full Service General Construction Company based in Santa Rosa, CA
» Project Management:
Pre-Construction Services
Estimating and Establishing Budgets
Value Engineering
Scheduling
General Project Oversight
Job Site Supervision
Subcontractor Coordination
» Extensive experience in:
Design/build
Commissioning/Validation
Subcontractor Coordination
Our biggest asset is our team. We are confident that we have the best team in the business in Sonoma, Napa and Marin County. We constantly challenge ourselves to raise the bar in the quality of our work and performance. We strive to stay on top of cutting edge techniques and technologies in the entire spectrum of our business. At Kirby Construction, being the very best is part of our culture.
Kirby Construction Company, Inc. has experience in a full spectrum of building projects. Our range of work covers the following categories of construction:
New Construction (Commercial and Residential)
Cannabis (Production Facilities, Extraction Labs, Dispensaries)
Guest Homes, Additions, Barns and Remodels
Wineries & Tasting Rooms
Industrial Installations
Facility Upgrades
Clean Rooms and Laboratories
Public Works
Historic Restorations
Tenant Improvements
We remain flexible to any changes, additional requirements and schedule impacts. We work as a team to provide creative strategies to overcome any unforeseen obstacles and complete the project per owner requirements.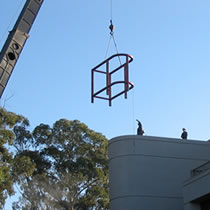 Safety is a huge priority for us at Kirby Construction. By providing a safe environment to work within, our employees stay healthy and can perform their duties effectively and efficiently. Our clients in turn can have the peace of mind that their loved ones or their employees will not be in harm's way. Our ongoing safety training program assures that our team is always trained, updated and conscious about safety. All of this also brings the added advantage of lower insurance premiums and overhead.